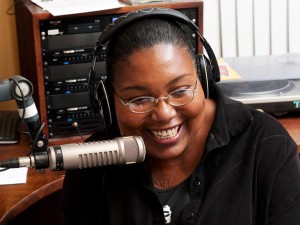 Maryse Dejean. Photo by Ryan Hodgson-Rigsbee.
If you'd like to contact Maryse by email, send a brief note to showhosts@wwoz.org, and be sure to include the name of the host you are sending to. We'll forward your note to the show host. Remember that our hosts are volunteers, so response times may vary. FYI, we do this to protect our volunteer show hosts' privacy from bots, scammers, and other evils of the digital age.
Maryse Déjean is the volunteer coordinator for WWOZ and current host of Monday afternoon's Jazz From The French Market (4-7p​m​). A native of Haiti, Maryse moved to New Orleans in the early 1980s and began volunteering at WWOZ in 1991. In 2008, she was hired as WWOZ's first full-time volunteer coordinator and has since grown our volunteer base to more than 600 strong, along with a smaller core group of highly dedicated volunteers.
"[It gives] me the opportunity to meet many people with diverse talents from all walks of life who have one extraordinary common point—admiration for and love of New Orleans' rich and diverse music and culture," Maryse says of her position. "As I work to recruit and integrate volunteers into the daily operations of WWOZ, I find myself feeling more alive than ever! I love the challenge of zeroing-in on an individual's deepest wish and then pairing his or her skills to advance an immediate task or long-term project."
In addition to her current position and show, Maryse has also hosted What's New on Sunday nights, The Kitchen Sink, and Caribbean African Journey. Maryse credits veteran WWOZ DJs Gabou Mendy and Gene Scaramuzzo, original hosts of the Caribbean African Journey program, as a fountainhead for her favorite musical discoveries. She was honored to host the program herself in 1992 when Gabou and Gene were away during the summer and eventually became the regular host of this now-defunct program. Maryse has hosted her current show, Jazz From The French Market since 2012. If you'd like to hear it now, check out the latest episode on our 2-week archive (Monday 4-7p).
As a longtime employee and before that, volunteer at WWOZ, Maryse is an integral part of our station's identity and resource management team. She has seen the station evolve through time and is looking forward to what the future holds. "WWOZ has always been on the cutting edge of technology—we were pioneers in internet broadcast. I'm excited that the station is consistently exploring new ways to connect with lovers of New Orleans culture across the U.S. and around the world. Most of all, I am thrilled that WWOZ is striving to help perpetuate the musical legacies of the Crescent City by supporting and nurturing the local youth through programs such as Cuttin' Class and internship opportunities."
Genre(s):
Blues, Brazilian, Contemporary Jazz, Latin, World
Program(s)
https://www.wwoz.org/programs/jazz-french-market-with-maryse-dejean
https://www.instagram.com/dejeanmaryse/?hl=en